Our experienced crew will take extra care to ensure you get the best quality possible. All meat is doubled wrapped and quick frozen. Your order is customized to your needs. Our crew will go over number of steaks per package, thickness of the steaks, size of roasts and hamburger packages.
Aging your beef is a personal preference. The standard hang at Cloud's is cutting the carcass on the 8th day where most of tenderness benefits are achieved. While hanging past this time can increase the tenderness slightly, longer hangs can change the flavor of the beef. If this is a flavor you desire, Cloud's can accommodate. There are some drawbacks to aging. Higher bacterial loads from the aging will cause a shortening of the freezer life of the meat and off flavors in the burger. Because of these problems Cloud's has developed an aging system to improve these problems. For a small fee, we will cut your beef on the 8th day keeping the burger and roast fresh and set back the loin primal to age as long as you would like. You will get the best of both worlds!
Keep in mind, not all beef carcasses can be aged. The carcass must have enough cover fat to protect the lean meat from bacteria. We will be happy to discuss if your animal can age or not.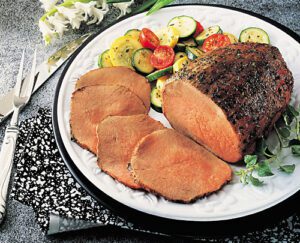 Ingredients 1 beef eye round roast (2 pounds) 1/2 teaspoon salt 1/2 teaspoon dried basil 1/2 teaspoon dried oregano 1/8 teaspoon pepper Vegetables: 3 medium
Read More »